Dumpster Rental Sun Prairie Wisconsin
Renting a dumpster in Sun Prairie is the best waste disposal option to make for anyone who has large items to haul off or heaps of trash to dispose of and they want to do it in a way that is economical, effective and convenient. Fortunately, there is now a dumpster available for any size of project and even homeowners with small projects can access affordable dumpster rentals. PDL Waste Solutions is a Sun Prairie local dumpster rental service that offers low-cost dumpsters. Call us at (608) 334-8001 to rent a dumpster in Sun Prairie, Wisconsin today.
We Take Just About Everything
Some examples of the junk we haul away include
Refrigerator Disposal

Garbage Removal

Mattress Disposal

Foreclosure Clean Outs
Construction Waste Removal

Yard Waste Removal

Trash Removal

Appliance Removal
Television Disposal & Recycling

Furniture Removal

E-Waste Disposal

Hot Tub Disposal
Rent a Dumpster in Sun Prairie
The good news for homeowners and smaller businesses is that there are different size dumpsters that are ideal for the kind of projects they often have. At PDL Waste Solutions, we have intentionally made it very simple for anyone who needs a dumpster to have it on their doorstep within 24 hours of their renting one. We take pride in being the 'go to' dumpster rental service for homeowners, businesses, companies and contractors who are looking for good dumpster rentals in Sun Prairie, WI.

Residential Dumpster Rentals - Customers often refer to residential dumpster rentals as roll-off dumpsters. Basically, these are containers that customers often rent for removal of residential waste, junk or trash. A roll-off dumpster can be a small, medium or large container but it is usually easy to load in large amounts of trash or junk items inside.

At PDL Waste Solutions, we offer small roll-off dumpster sizes as well as large roll off dumpsters to customers who need hauling services or waste removal containers for small to large projects at their homes or business locations. A medium 15 or 20 yard dumpster is versatile because it offers the right amount of space for disposal of waste from common commercial, residential and construction projects. Our 30 yard dumpster has space that is equivalent to 12-14 pick up trucks. They are designed for disposal of almost all types of waste.

Commercial & Construction Dumpster Rentals - We also offer low-cost prices for both commercial dumpster rentals and construction dumpster rentals. Our small dumpster rentals are versatile because they can carry different types of trash and because they are easily maneuverable; making removal of waste or junk from tight spaces and hard to reach places much easier. Our large dumpsters are also great for large construction projects and hauling large items.
Sun Prairie Dumpster Rental Sizes
There are many Sun Prairie Dumpster Rental sizes that one can choose from when renting a dumpster. While there is no absolute way to choose the right size dumpster; having a knowledgeable and experienced person to guide you in your decision will help you find a dumpster that is right for your project. At PDL Waste Solutions; we have a friendly team of staff that will be happy to point you in the right direction especially if you are a first time dumpster with no clue where to begin.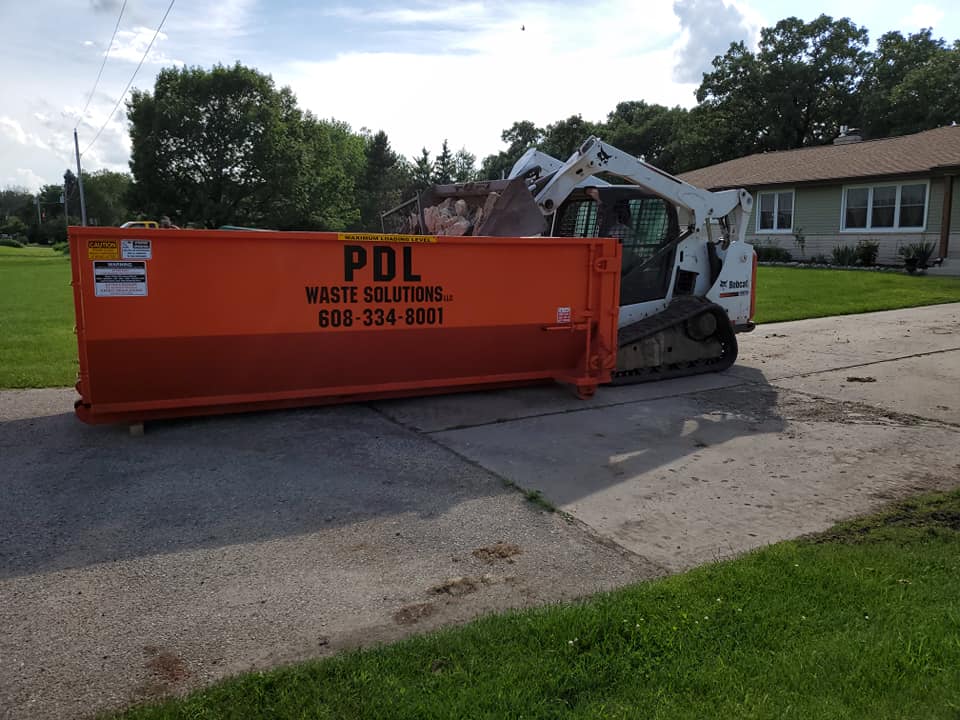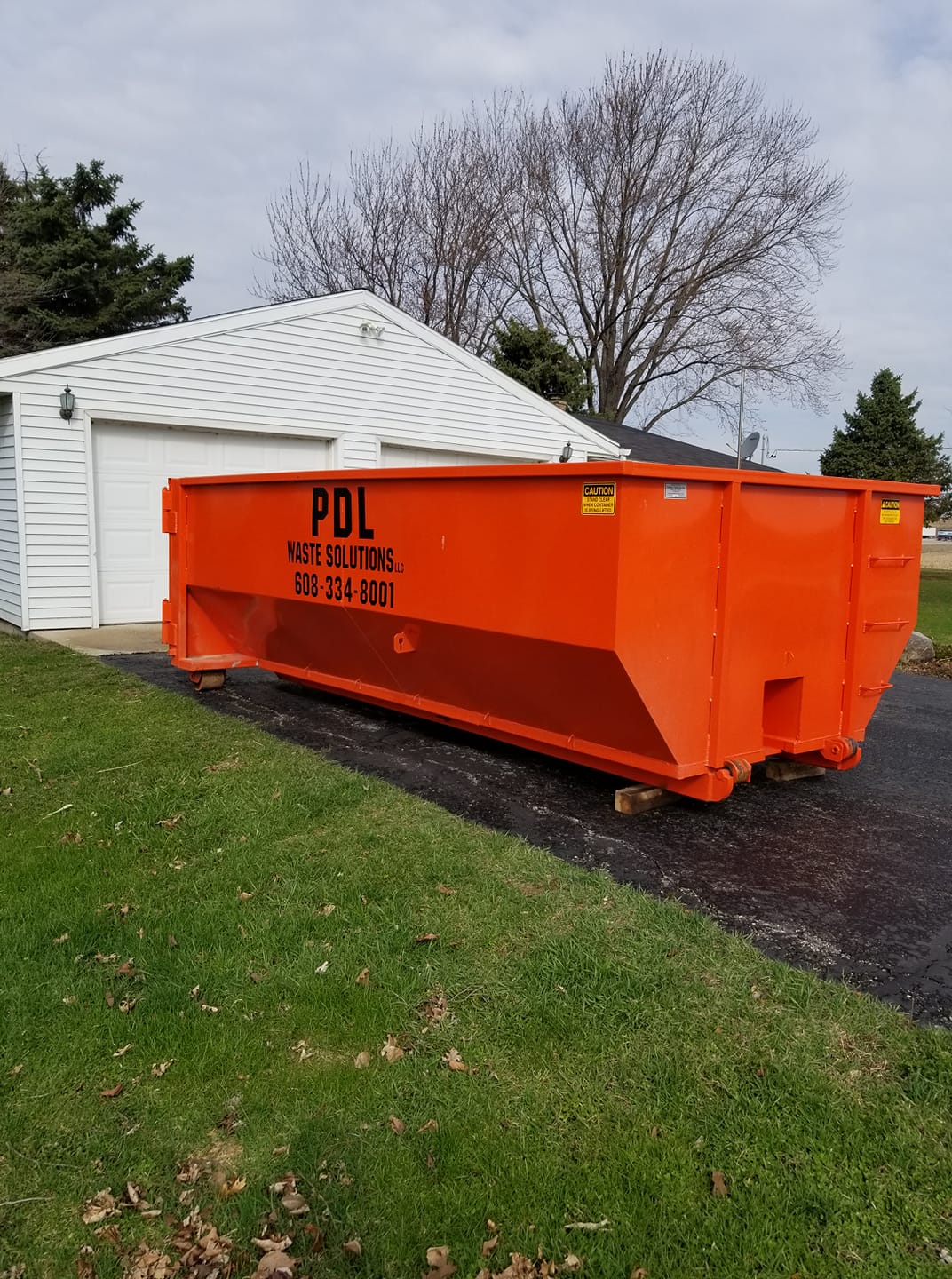 How To Rent A Dumpster in Sun Prairie?
When you need to rent a dumpster in Sun Prairie, WI; just give PDL Waste Solutions a call at (608) 334-8001 and talk to any member of our team. We will need a few details to determine where the dumpster should be delivered to and when it should be delivered. Once you pay for your rental dumpster; we will usually deliver it to you at the scheduled time and wait for you to notify us that it is ready to be hauled off. You can also book a dumpster and schedule a delivery on our website.

If you want to rent a dumpster in Sun Prairie but you do not have a private placement area, you are required by local regulations to obtain a dumpster permit before booking a delivery date. The dumpster permit will allow you to legally place your rental dumpster once delivered on an area that may be considered as public-right-of-way. Let our team know if you have further issues or questions on the subject of dumpster permits.
The Sun Prairie Dumpster Rental Service You Can Depend On
Rent the best priced roll off rentals in Sun Prairie WI from PDL Waste Solutions; the Sun Prairie dumpster rental service you can depend on. Whether you are looking for commercial, residential or construction waste disposal solutions; we have you covered. Let us help you get rid of C&D waste, yard waste, home cleanout waste, and even hauling junk, firewood, bricks and any other items. PDL Waste Solutions also provides dumpster rentals in Milton Wi.