Dumpster Rental Janesville WI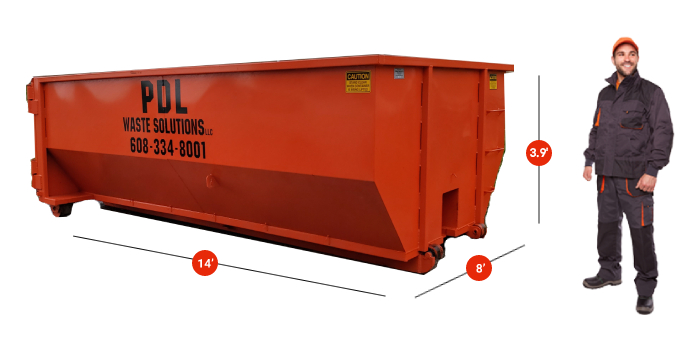 10 YARD DUMPSTERS
Capacity Equivalent: 4 Pick-up Loads
Ideal for household cleanup projects, including removal of old carpets, small furniture, toys and other household items. At just 4 feet tall, this dumpster is easy to load, too.
Book Online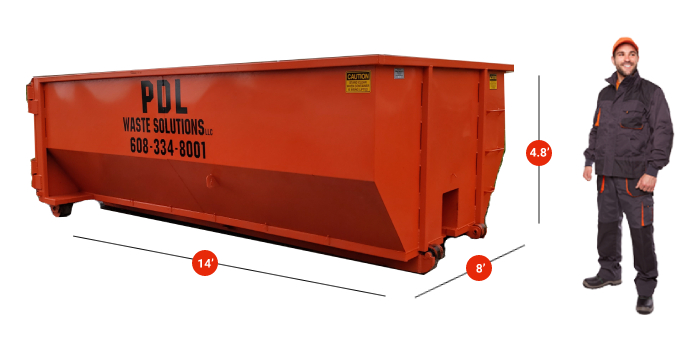 15 YARD DUMPSTERS
Capacity Equivalent: 8 Pick-up Loads
This dumpster is large enough for bigger remodeling project like bathroom renovations, or full attic and garage cleanouts. Great for bulky, heavy and large materials.
Book Online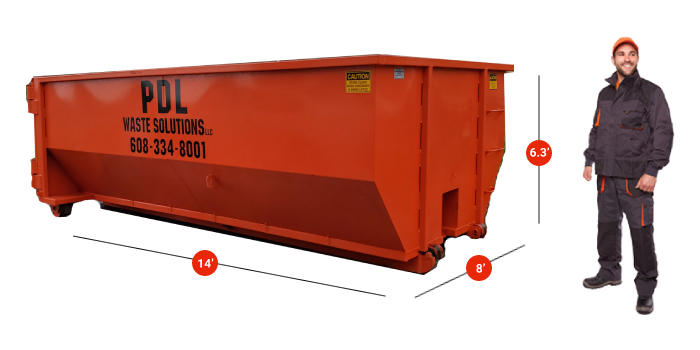 20 YARD DUMPSTERS
Capacity Equivalent: 8 Pick-up Loads
This dumpster is large enough for bigger remodeling project like bathroom renovations, or full attic and garage cleanouts. Great for bulky, heavy and large materials.
Book Online
If you have junk then you need the best dumpster rental Janesville WI has to offer from PDL Waste Solutions. We're the number one choice for dumpster rentals in our area thanks to our large selection, low prices, and unbeatable customer service. No matter what type of project you have coming up, you know you need a reliable dumpster to be able to get the job done efficiently -- so why wait? The professional team here at PDL Waste Solutions in Janesville WI is here for you when you need us.
We know that renting a dumpster is not typically the highlight of anyone's day. After all, many dumpster rental companies make it unnecessarily hard and add additional stress to your plate. But we're not your typical dumpster rentals company! At PDL Waste Solutions we do things a bit differently. From our easy online ordering system to our outstanding customer service and support, you can count on us to deliver the right dumpster for the job, on time every time. Add on the fact that we keep our prices low and our commitment to quality high, and there's no reason not to get that dumpster you know you need!
Janesville WI Dumpster Rental
The team at PDL Waste Solutions has the Janesville WI dumpster rental you need to make your next project or job easier than ever. Whether you're getting ready to tear out your kitchen or you're gearing up for that long overdue landscaping project, don't make the mistake of getting started before you have your small dumpster rental Janesville WI parked outside and ready to be filled. We make it so easy to get your dumpster rentals that there's no excuse! You can feel good about your choice to trust PDL Waste Solutions because not only are we a locally owned and operated business that cares about our community and customers but we work closely with Janesville WI waste management authorities to dispose of your junk properly. We're dedicated to keeping our community clean and green for years to come!
No matter what kind of project you're embarking on or what type of waste you need to dispose of, our heavy-duty dumpsters can stand up to the challenge. We accept all kinds of junk, including, but not limited to:


Refrigerator Disposal


Garbage Removal


Mattress Disposal


Foreclosure Clean Outs


Construction Waste Removal


Yard Waste Removal


Trash Removal


Appliance Removal


Television Disposal & Recycling


Furniture Removal


E-Waste Disposal


Hot Tub Disposal


And more!


Book Online
Dumpster Rental Janesville Wisconsin
Looking for the company with the dumpster rental prices that can't be beaten? You're in the right place! Part of our mission is to make sure that every Janesville WI resident has easy access to the dumpsters they need to get rid of their junk and have it disposed of properly. We know that without the right waste management equipment, folks are forced to get creative with their junk removal, which can result in junk ending up in places it shouldn't. Our goal is to make sure that our rentals are affordable enough for everyone so that our community, homes, and businesses can remain as clean and beautiful as possible. We offer three different size options for you to choose from, so no need to worry about getting a one-size-fits-all solution that you'll find with the other guys. Our sizes include:


10-yard dumpster


15-yard dumpster


20-yard dumpster


No matter what size project you have coming up, we'll make sure that you get the right size to get the job done right. With our large fleet of dumpsters to choose from, it's easy to see why our community trusts us for their dumpster rental in Janesville WI above any other waste management company. You can rest assured that choosing us means your project will go as smoothly and efficiently as possible thanks to our commitment to delivering high-quality containers on time and ready to get to work for you.
Booking Your Dumpster Rental Near Janesville WI
Ready to take the first step towards finally getting rid of that excess junk once and for all? Our seamless reservation process helps you to finally get into gear and get to work. We know that you can't commit to cleaning out your garage or remodeling your bathroom until you have the right waste management equipment in place, because who wants to move junk more than once? So, let's get the ball rolling today! Follow these instructions to reserve your dumpster rental Janesville Wisconsin:
1. Select the dumpster size and type that best fits your project.
2. Select add to cart
3. Select your drop-off and pick-up dates.
4. Choose from regular delivery (between 8 am-5 pm) or time-sensitive delivery (within a specific hour timeframe).
5. Click submit.
6. Enter your payment information and receive a confirmation email.
If you have any questions, we welcome you to reach out to our friendly team -- we're here for you every step of the way!

We also offer roll-off service for Madison dumpster rentals, Stoughton, Fort Atkinson and surrounding areas.