Dumpster Rental Monona Wisconsin
Renting a dumpster in Monona makes the most sense when one has a large amount of trash or junk to get rid of and they want to dispose of it economically, effectively and conveniently. The good news is that now, there is a dumpster size for any size of project and even homeowners and small businesses can access rental dumpsters. PDL Waste Solutions is a local dumpster rental service in Monona, Wisconsin. Call us at (608) 334-8001 to rent a dumpster in Monona today.
We Take Just About Everything
Some examples of the junk we haul away include
Refrigerator Disposal

Garbage Removal

Mattress Disposal

Foreclosure Clean Outs
Construction Waste Removal

Yard Waste Removal

Trash Removal

Appliance Removal
Television Disposal & Recycling

Furniture Removal

E-Waste Disposal

Hot Tub Disposal
Rent a Dumpster in Monona
You don't have to run a large company or be a contractor to justify renting a waste removal dumpster. With a single phone call to us, anyone can rent a dumpster and have it delivered to their location as scheduled. At PDL Waste Solutions, we pride ourselves in providing low-cost dumpster rental services and clean dumpsters to customers in Monona and neighboring towns. Our customers include; homeowners, small businesses, communities and contractors. Which dumpster should you rent?

Residential Dumpster Rentals - Our residential dumpster rentals are also commonly referred to by customers as roll-off dumpsters. These are dumpsters homeowners and landlords often rent for disposal of waste from home improvement projects. A roll-off bin rental can be small, medium or large depending on the size of project.

PDL Waste Solutions offers several roll-off dumpster sizes, which are; our 10 yard dumpsters, 15 yard dumpsters, 20 yard dumpsters and our 30 yard dumpsters . A 10 yard dumpster simply means that it can hold an average 10 cubic yards worth of waste or for an even better visualization; trash or junk that can easily fit into 5 pick-up trucks. Our dumpster rentals Monona WI are perfect for removal of construction waste, yard debris, junk from home cleanouts, hauling of firewood and other items. They are also often rented by business owners who are looking to dispose of business waste.

Commercial & Construction Dumpster Rentals - We offer both construction dumpster rentals and commercial dumpster rentals at low-cost prices. A 10 yard dumpster is a small dumpster which is small enough to fit into tight spaces but also spacious enough to haul junk and a lot of trash. A 30 yard dumpster is a large dumpster that can handle waste from large scale projects. Whether you need a small dumpster or a large dumpster for removal of shingles, deck removal, removal of junk and garbage after a cleanout or removal of yard waste after a landscaping for yard maintenance project, we got you. Just give us a call and we will deliver the dumpster you need.
Monona Dumpster Rental Sizes
When renting a dumpster in Monona, WI or just about any other city; you need the experience of a knowledgeable professional to help you choose the right size dumpster depending on the project you have at hand. PDL Waste Solutions have the best dumpster rental services in Monona and because we have a friendly team of resourceful representatives. They will give you all the information you need and guide you especially if you are a first time renter.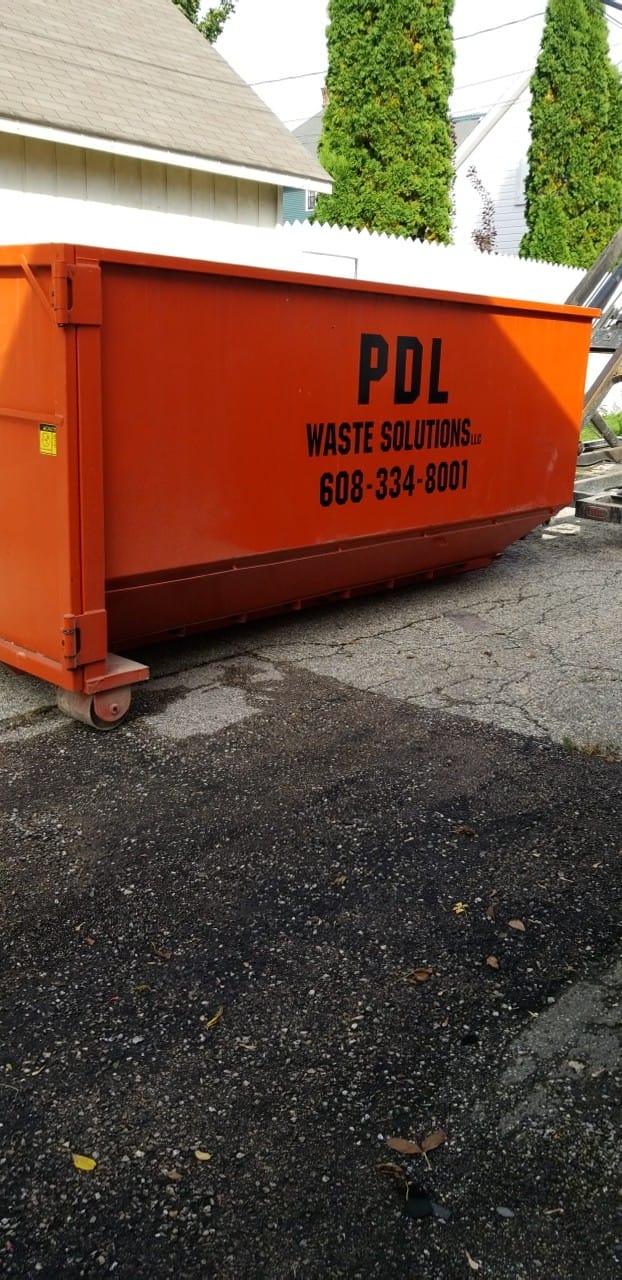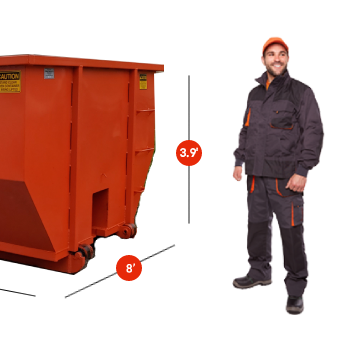 How To Rent A Dumpster in Monona?
Before we make a delivery, we need to obtain a few details from you so that we can know just when and where the dumpster should be delivered to and when we should expect to pick it up for proper disposal. You can either give us a call at (608) 334-8001 to rent a dumpster in Monona or you can book your rental dumpster online on our website. If it will be your first time renting a dumpster and you are not sure what you need, please give us a call and we will guide you.

Anyone who wants to rent a dumpster in Monona but does not have a private placement area is required by the local authorities to apply for a dumpster permit before booking a dumpster delivery. The dumpster permit is important as it allows renters to place dumpsters on places considered as public-right-of-way. Let our representatives if you have issues or further questions on this.

The Monona Dumpster Rental Service You Can Depend On
Rent the best priced roll off rentals in Monona from PDL Waste Solutions; the Monona dumpster rental service you can depend on. Whether you are looking for commercial, residential or construction waste disposal solutions; we have you covered. Let us help you get rid of C&D waste, yard waste, home cleanout waste, and even hauling junk, firewood, bricks and any other items. PDL Waste Solutions also provides dumpster rentals in Sun Prairie WI.